Capturing and Managing Survey Participants

The Manage PARTICIPANTS module will allow you to:


Capture or import a list of potential participants in a survey (employee list) with or without the organizational structure and business unit affiliation;


Edit and maintain the employee list with respect to employee details, demographic data and business unit affiliation; and



Allocate or edit system roles (e.g. system administrator or manager) to individuals, reset passwords and monitor logon activities for an employee.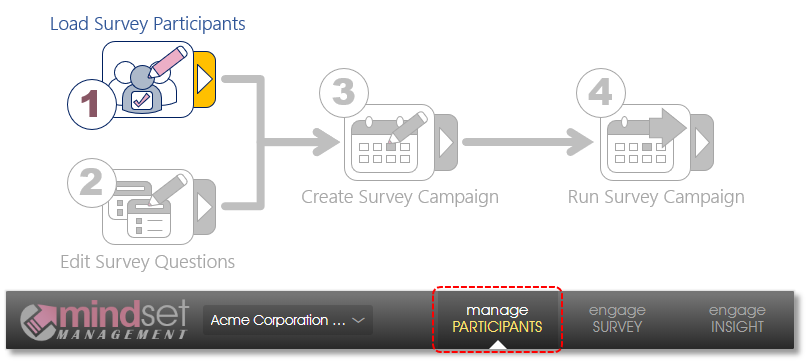 Structure and Use of the Participant List
The list of potential survey participants (employee list) is a vital building block of the survey system:


Public vs targeted surveys – although the system makes provision for a public (anonymous) survey to be conducted, without the need for importing any employees (i.e. a survey done via a public URL link that is made available to anyone for completion), the more reliable way to conduct a survey would be to import or capture a detailed list of all potential participants (employee list) so unique (targeted) survey links can be sent to all email addresses. See Public vs Targeted Surveys for more on the different modes of online surveys, and

Manage PARTICIPANTS > Edit Business Unit Data

for more on how to define off-system employees.


Capturing participant attributes – loading an employee list with employee details will also make it possible to pre-populate business unit affiliations and hierarchies, and to add additional demographic data for each employee, e.g. job level, tenure or age group. Capturing business unit and demographic details beforehand will negate the need to include them as questions in a survey, which in itself can result in incorrect data being captured.


Display of survey results in Engage ANALYTICS – the survey results will be grouped and displayed according to the business unit hierarchy as captured in the employee list, which makes an accurate and up-to-date employee list even more important.


Login access – user permissions with respect to Engage INSIGHT and Engage ANALYTICS are based on roles as captured or defined in the employee list.


For more on the advantages and disadvantages of Public and Targeted survey, please see Modes of Online Surveys under the Resources | Tutorials | Survey Guidelines on the Mindset website.
Flat Lists vs. Level-based Hierarchies
Employees can either be imported or captured as a flat list with no business units or managers, and can even include an inflated headcount to make provision for off-system workers, i.e. casual or temporary workers without emails or employee numbers.
An alternative to a flat list will be to structure the employee list as a level-based hierarchy of business units and their (optional) managers, with provision for a single manager to manage more than one business unit where required. The survey responses of a business unit manager will automatically be rolled up and combined with the responses of the next higher level in the hierarchy in order not to taint the survey results of the manager's own business unit.
In case of a level-based hierarchy, all business units will be identified by a unique decimal-based business unit index number. The top-level business units will be numbered in a numerical sequence (1, 2, 3 etc.), e.g. in the example below, the Procurement business unit has a number of "1", the Logistics & Customer Services business unit has a number "2" etc. Sub-units will then be identified by appending a decimal point and numerical sequence number to the parent unit's index number. For instance, in the example below the Southern Region has a business unit index number of 2.1.3 – indicating it is a child of 2.1 Warehousing Operations, which is in turn a child of 2 Logistics & Customer Services.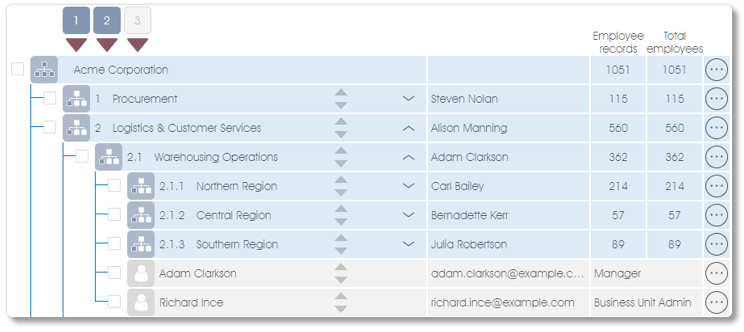 User Interface & Interaction
The Manage PARTICIPANTS module displays the employee list in a user-friendly hierarchy with leader lines to graphically depict business unit affiliation:


Expanding or collapsing business units – individual business units can be collapsed or expanded by clicking on the up/down arrows next to the business unit names, or all business units up to a certain level can be automatically collapsed by clicking on the level indicator at the top of the page.


Bulk actions on a selection of employees – to perform a bulk action on an arbitrary selection of business units and/or employees, select the business units and/or employees by ticking their checkboxes. In so doing, any toolbox functions that cannot be used on a selection of business units and employees will be invalidated, i.e. they will be grayed out and cannot be used.


Menu shortcuts – select the item by clicking on it, and then open the item's associated dropdown toolbox by clicking on the 3-dot icon on the right edge of the selected item. The available functions that can be performed on the selected item will then be listed in the dropdown toolbox.


Editing an employee or business unit – to edit the description or attributes of a business unit or employee, simply double-click on the item. As an alternative, or to select a different function to be performed, select the item by clicking on it once (it will be highlighted in burgundy), and then select the function that is to be performed either in the toolbox in the side panel or via the dropdown toolbox (see previous point).


Number of employee records vs total records – the number of employee records that have been captured for a particular business unit will be displayed as a total in the Employee Record column. However, a business unit may have additional off-system employees, i.e. casual or temporary workers with no emails or employee numbers, in which case the total number of employees (number of employee records captured PLUS the number of off-system workers) will be shown in the Total Employees column. See Add Business Unit for more on how to specify off-system workers.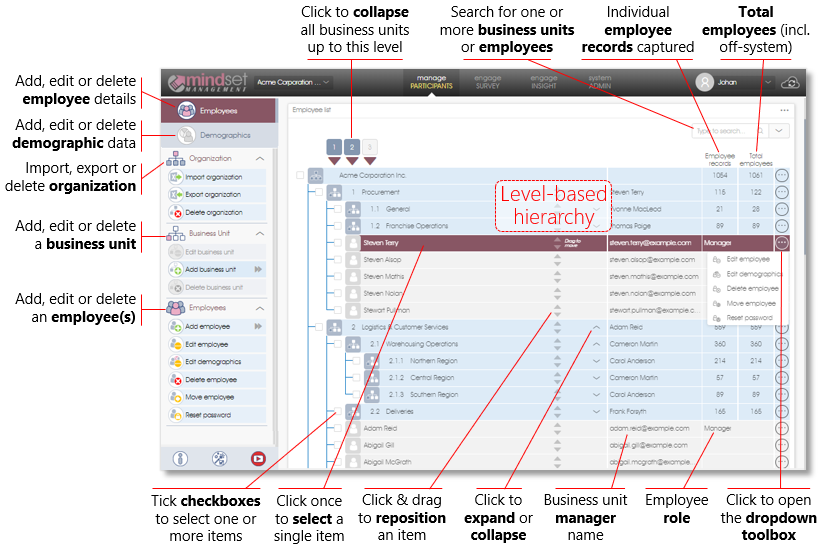 Using the Search Function
The Search function will allow you to search for one or more business units and/or employees who meet the search criteria:


Use the Search function to search for a specific employee by name, email, employee number, start date or any of the other attributes, including demographics, that have been captured.


The search function will also allow you to search for multiple occurrences of the search criteria, e.g. all employees with the name 'John', or to do a partial search, e.g. all employee records with the email extension 'acme.com'. All employee records or business units that match the search criteria will be displayed, including their business units and level-hierarchy affiliations.


When a filter has been set, a small cross (in a circle) will be displayed next to the filter description. Click on the cross to clear or reset the current filter.



For additional search options, open the search function's dropdown menu by clicking on the down arrow.

The employees' demographic attributes will (if captured) by default not be included in a search; to include them, select the 'Demographics (exact match only)' option. To display a list of all the employees with Manager, Business unit admin or System admin roles,

or to restrict the search to one or more of these employee roles,

select the appropriate employee role(s) from the list in the

dropdown menu

.