Using a Survey Template to create a Survey Model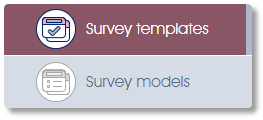 Survey templates are ready-to-use survey models that are made available by Mindset and its Partners that can be used as the basis for a new survey model. Survey templates can be copied and used as-is, or can be customized and changed to reflect the organization's culture and work environment.
Survey templates fall into three groups:


Mindset's Flow@Work™ engagement template – Mindset's statistically validated and scientifically researched Flow@Work™ employee engagement survey model is bundled with a set of Engage INSIGHT best-practices recommendations and the custom Personal Engagement Report feature for online survey respondents, and can be used freely and at no cost.


Free templates – templates of survey models made available by Mindset and its Partners that can be used freely and at no additional cost.


Licensed templates – proprietary templates of survey models made available by Mindset and its Partners that are subject to licensing fees as determined by the Partner concerned.


To create a survey model based on a template, simply select a template from the list and click on the Copy button. Then enter a name for the new survey model in the dialogue window that comes up, and click on the OK button to save it. The Edit survey model work area and a number of sub-menu items in the side panel will be displayed: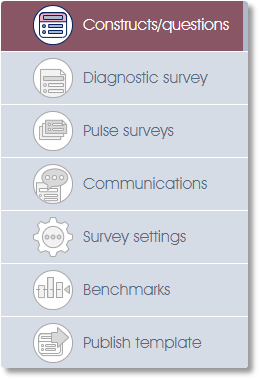 Making Changes to the Flow@Work Engagement Model
The Flow@Work™ engagement survey involves 42 statistically validated survey questions that have been specifically selected to help diagnose the issues that impact engagement in your organisation or team.
In order to preserve the model's statistical validity and at the same time ensure that the Personal Engagement Reports and Engage INSIGHT work as advertised, mandatory Flow@Work™ survey questions that should not be deleted or substantially changed will be marked with a yellow lock symbol in the survey model editor (see example below).

You can make minor changes to these questions at your own discretion (e.g. change co-worker to colleague), but the survey model will be unlocked and the link with the Personal Engagement Report function and Engage INSIGHT broken if you delete or substantially change the meaning of a locked question. Non-mandatory questions can be deleted or changed as required. You are also free to add additional survey questions to an existing construct, or even to add your own custom constructs to the survey (e.g. to measure Diversity & Inclusion or Values).