Editing the Survey Communications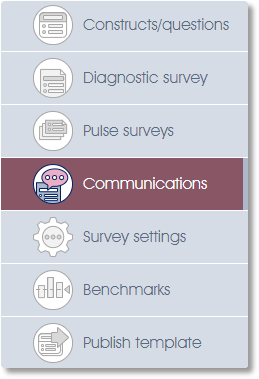 Selecting the Edit survey model toolbox function will result in the survey model work area and a number of sub-menu items in the side panel being displayed. The Communications sub-menu item will allow you to define or edit the email templates for the invitation and reminder emails to participants. Click on the edit button (pencil icon) to edit the invitation or reminder email subject headings and content:

The text editor will be loaded:
1.

Subject heading (compulsory) – add a subject heading for the invitation and reminder emails. Please note that subject headings are compulsory; the system will not send out invitation or reminder emails without subject headings.

2.

Auto-populate fields (survey link compulsory) – insert where required fields that will be automatically filled-in with relevant information when the email is sent:

Survey name – name of the survey as defined when a survey campaign is created, e.g. Engagement survey 2019.


Partner name – name of the Mindset Consulting Partner (if applicable).


Client name – name of the licensed client.


Employee name – preferred name of the survey participant.


Survey link (compulsory) – URL link that the survey respondent can click on to complete the online survey. Please note that the email content should include at least a survey link, otherwise the respondent will not have a link to click on to complete the survey.


System admin email – email address of the client's system administrator so survey respondents know who to contact for enquiries or first-line support.

3.

Content area – text to provide context for the survey and to motivate the addressees to participate in the survey.

4.

Editor ribbon – edit the layout and formatting of the content text.

5.

Save – click on the Save button to save the email subject heading and content.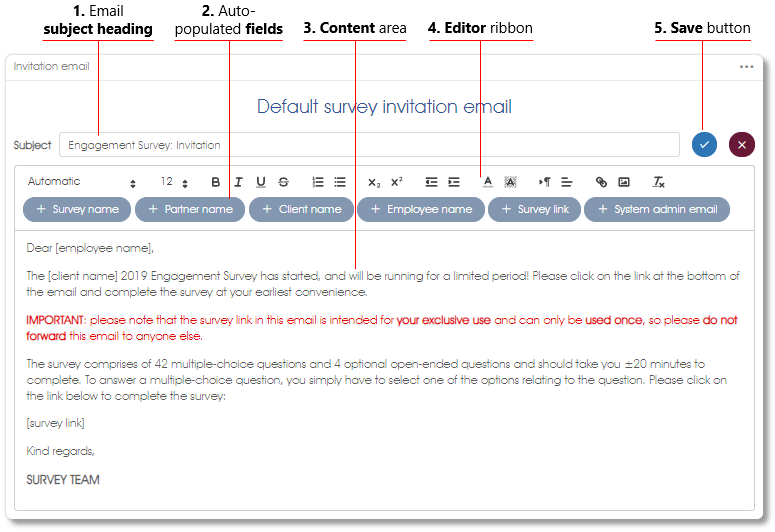 The editor ribbon will provide you with full control over the layout and formatting of the text: