Survey Models, Datasets & Benchmarks
The Engage ANALYTICS dashboard supports two types of survey models (designs):


Mindset's Flow@Work engagement survey model – a statistically validated and proven diagnostic employee engagement survey that measures both the indicators and drivers of employee engagement;


Custom survey models – surveys defined by the user or one of our Partners that measure for example culture, values, job satisfaction or customer engagement.


The survey models are in all cases based on a number of survey constructs or topics, with each survey construct/topic comprising of a number of survey questions. Click on the Survey Questions tab to view a survey model's constructs/topics and related survey questions - see Survey Model & Questions for more on this.
A survey model can be used as the basis for a number of different diagnostic and pulse survey questionnaires (see Define a Survey Model for more on this).

Survey questionnaires can in turn be used multiple times as the basis for conducting a survey, with each survey's results stored as a dataset. For example, a diagnostic survey questionnaire based on a survey model that is designed to measure the culture in an organization, can be used on an annual basis to measure the organization's culture, with the survey results of each survey stored as a dataset for the year in which the survey was conducted.
The analytics dashboard will allow you to select a survey model as well as different datasets for display purposes: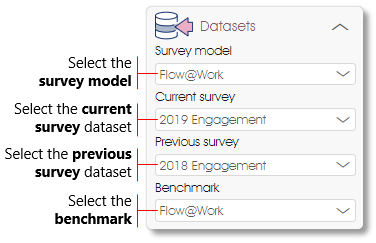 Survey model – select the survey model from the available list (e.g. Culture or Engagement survey if available);


Current survey – select a dataset that will be displayed as the default current survey (e.g. 2019 Culture Survey);


Previous survey – select a dataset that will (if available) be displayed as the previous survey (e.g. 2018 Culture Survey);


Benchmark – select a benchmark (if available) from the list.


The scores for survey constructs/topics and survey questions are shown out of a total score of 100 (see the next section Survey Question Scores for more on how the survey question scores are calculated). The survey scores of the selected Current and Previous surveys as well as the benchmark will be displayed where appropriate in the analytics dashboard.