User Interaction & Navigation

The system's menu, sub-menu structures, side panel, and toolbox functionality are summarized in the image below and discussed in more detail in the following section.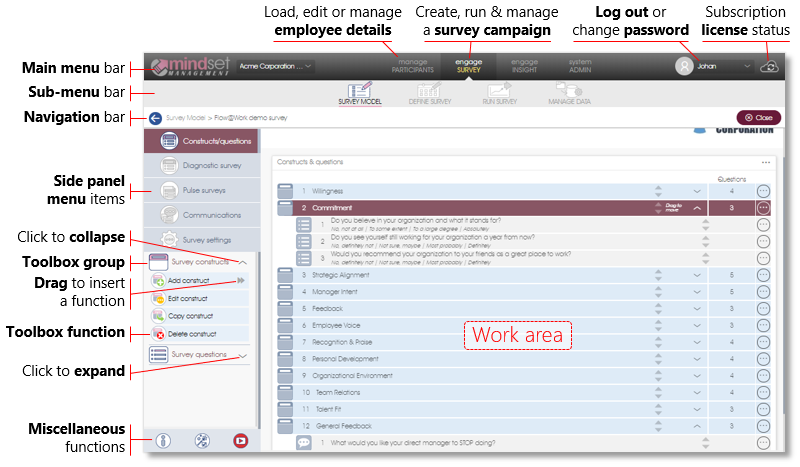 Main menu bar – allows you to navigate between the different Engage products, such as Engage SURVEY or Engage INSIGHT. The name of the logged-in user and the status of the user's subscription license will be displayed at the right of the main menu bar. A menu item for Engage PARTICIPANTS may also be shown – subject to your login access rights. This function is prominently included the main menu bar since this is where you will be able to not only load and maintain the list of potential participants for a future survey, but also to manage user access and administrative rights for all the different Engage products.


Sub-menu bar – navigate between the different sub-menu options, where applicable, to load a different product module.


Navigation bar – uses a breadcrumb trail to help you keep track of the product module that has been loaded. You can click on the blue arrow – or any of the breadcrumb parts – to navigate back to a previous application or screen, or click on the Close button to close the current screen and return to the previous one.


Side panel menu items – the side panel is context sensitive, i.e. it will change according to the application that has been loaded. Where available, a list of menu items will be shown.


Toolbox groups – some of the side panel menu items will have a number of toolbox functions that may be grouped where necessary under a heading. Click on the up or down arrow next to the toolbox group heading to show or hide the list of available toolbox functions.


Toolbox functions – the toolbox functions will allow you to perform all kinds of advanced actions relating to the currently selected side panel menu item, such as inserting a new business unit or resending a survey email. The toolbox functions are context sensitive and will be activated or deactivated (grayed out) according to the item that has been selected in the work area. Simply click on an active toolbox function to execute. Toolbox functions that are marked with small gray arrows can be clicked and dragged for insertion anywhere in the work area.


Miscellaneous functions – allow you to open the Help file or How-to videos (where available), or to reactive a wizard.